Festival Tickets on Sale Now —Including New Saturday Night Comedy Show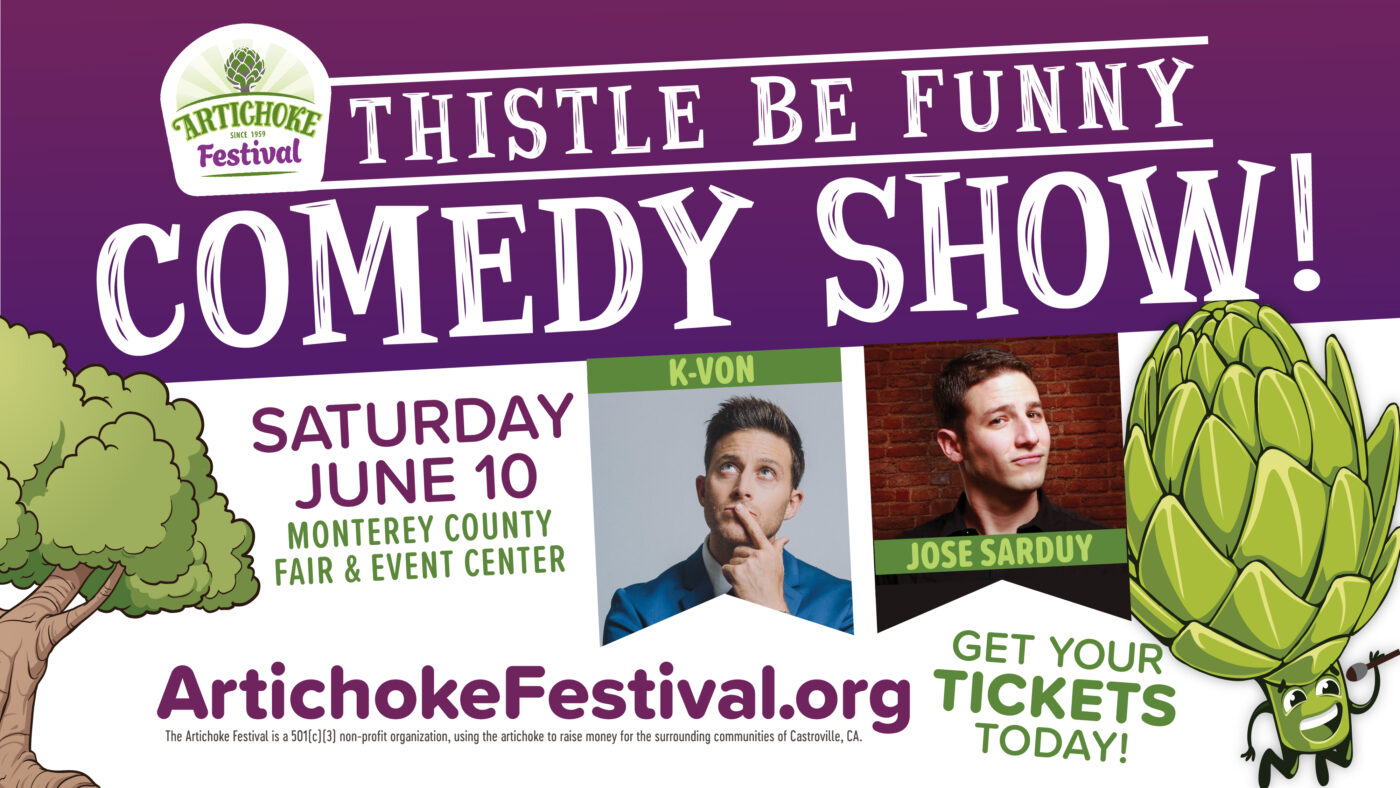 CASTROVILLE, Calif. (March 14, 2023) — The 63rd annual Artichoke Festival, which takes place June 10-11 at the Monterey County Fair & Event Center, will introduce a new show, a Saturday night-only standup comedy program called "Thistle Be Funny Comedy Show" featuring comics K-Von and Jose Sarduy.
The  "Thistle Be Funny Comedy Show," which is a play on this year's theme, "Thistle Be Fun," features K-Von at 6:30 p.m., and Jose Sarduy at 8 p.m. The festival offers a special Comedy Combo discount package (two festival tickets, two comedy show tickets, two Saturday wine tasting passes) for $170 plus processing fee. A standalone comedy ticket is $40 for adults only, must be 18 and over.
Doors open to all comedy show guests at 6 p.m., with the entry for festival attendees at the Monterey Room east entrance. Entry for non-festival guests is at the Monterey Room street entrance, on Fairground Road. Remember, children are not allowed inside the Monterey Room for this event. Participants must show a valid ID to enter.
K-Von could be the most famous half-Persian comedian in the world. Millions have seen his appearances on Netflix, NBC's "Last Comic Standing," and his popular TED Talk that introduced him to a global fanbase. He is the author of the book "Once You Go Persian," a funny detailing of his upbringing and how he got into comedy.
Sarduy takes audiences on the rollercoaster ride that's been his life. Born in Cuba and deported because of his father's political prisoner status, he came to the U.S. at a young age. Growing up with a hard working, and always quirky Cuban family brought loads of funny moments. A graduate of the U.S. Air Force Academy and former officer in the Air Force, Sarduy is also an accomplished aviator and war veteran.
Ticket information
The Artichoke Festival sells a variety of ticket packages available online here. The popular Family Pack includes general admission for two adults and two children, good for one day only, with the cost $50 (processing fees).
The special It's A Date package costs $90 (processing fees.) and includes general admission for two adults (21-over), plus two wine tasting passes. The festival also offers special rates for seniors, children and military. Parking passes are available for $15 an $20. There are no refunds.
All guests will be required to comply with current CDC, California Dept of Public Health and Monterey County public health guidelines regarding safety protocols. A clear bag policy will be enforced, with clear bags available for sale on the website store and at the gates.
For more information, go to artichokefestival.org.
About the Artichoke Festival
California's artichoke history began in 1922 when the first artichoke shoots were planted in Castroville. Today, more than nine decades later, nearly 100 percent of America's fresh artichoke supply is grown in California and nearly two-thirds is grown in the small town of Castroville. The first Artichoke Festival was held in 1959 under the sponsorship of the Marinovich Marching Units, with the assistance of the Castroville Rod and Gun Club. In 1961 it was a joint venture of the Marinovich Marching Units and the Castroville Chamber of Commerce to produce a larger festival, and Sally DeSante was chosen as the first Artichoke Queen. In 1963, 1964 and 1965 it was solely sponsored by the Castroville Chamber of Commerce under the direction of the Artichoke Festival Board with Bill Price, one of the originators of the festival idea. In 1994 the Artichoke Festival became a non-profit and became the sole producer of the Artichoke Festival. The festival is currently held at the Monterey County Fair & Event Center, 2004 Fairground Road, Monterey.