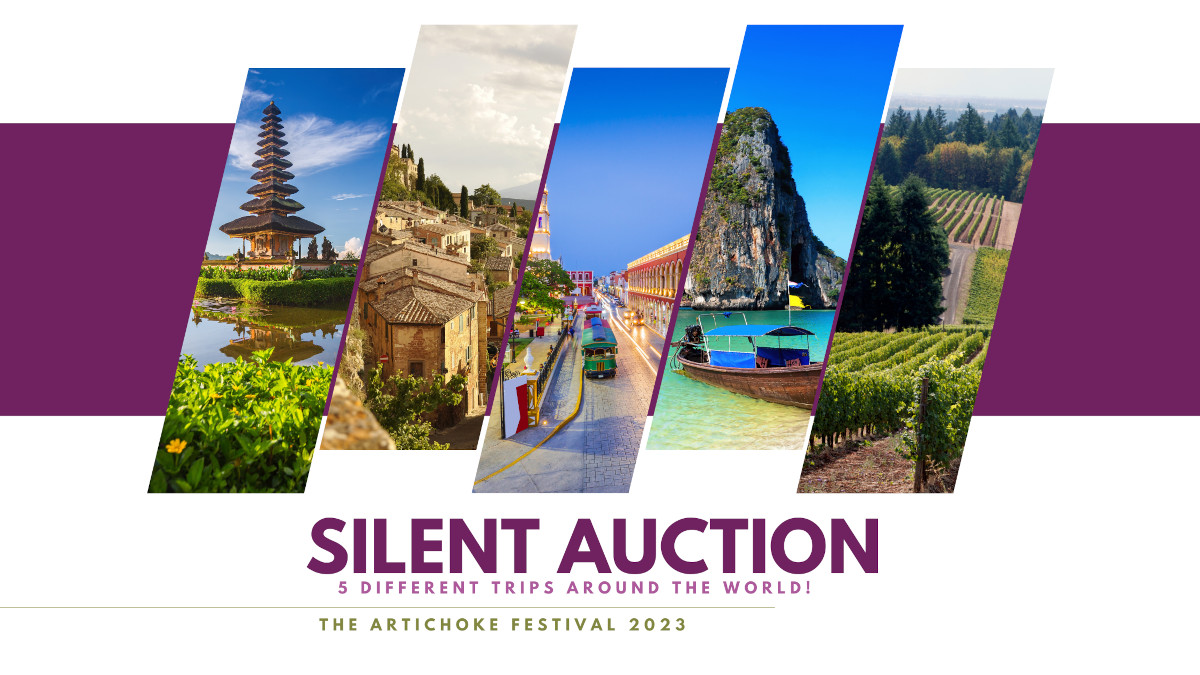 CASTROVILLE, California (April 12, 2023) — Pacific Auction Company will be auctioning off five exciting travel packages, including trips to Bali, Tuscany, Mexico, Thailand and Anderson Valley in Northern California wine country at its silent auction held during the festival.
Travel packages include:
BeachfrontBali Villa. Eight days and seven nights at the luxurious 7,000-square-foot Villa Pantai on 1.5 acres of private beachfront in exotic Bali, with a 7-person Balinese staff to pamper you.
Under theTuscan Sun. Six nights for two in a charming private residence in the historic city center of Cortona, Italy. Includes wine tasting in Cortona's coolest wine bar, and a cheese & charcuterie tasting at a local shop.
Mexico Choice. Seven nights for two at a four-diamond luxury resort in Mexico, with your choice of Riviera Maya, Acapulco, Los Cabos, Puerto Peñasco or Nuevo Vallarta.
Thailand Beach Escape. Five nights at the Thailand Pullman Phuket Panwa Beach Resort, a Fairmont-managed 5 star luxury resort, including daily breakfast for two
Anderson Valley Long Weekend. Five days and four nights in a beautiful vacation home that accommodates eight people on a redwood-studded ridge overlooking the valley and only a 45-minute drive from Healdsburg.
Proceeds from the silent auction are distributed directly to the festival's nonprofit beneficiaries.
Tickets to the 63rd annual festival, which will return to the Monterey County Fair & Event Center, 2004 Fairground Road, Monterey, June 10-11, with the theme "Thistle be Fun: Artichoke Festival 2023."
For more information, go to artichokefestival.org.
About the Artichoke Festival
California's artichoke history began in 1922 when the first artichoke shoots were planted in Castroville. Today, more than nine decades later, nearly 100 percent of America's fresh artichoke supply is grown in California and nearly two-thirds is grown in the small town of Castroville.
The first Artichoke Festival was held in 1959 under the sponsorship of the Marinovich Marching Units, with the assistance of the Castroville Rod and Gun Club. In 1961 it was a joint venture of the Marinovich Marching Units and the Castroville Chamber of Commerce to produce a larger festival, and Sally DeSante was chosen as the first Artichoke Queen. In 1963, 1964 and 1965 it was solely sponsored by the Castroville Chamber of Commerce under the direction of the Artichoke Festival Board with Bill Price, one of the originators of the festival idea.
For many years now the Artichoke Festival has been an independent 501C3 nonprofit organization know as the Castroville Artichoke Festival, Inc. run by the board of directors.