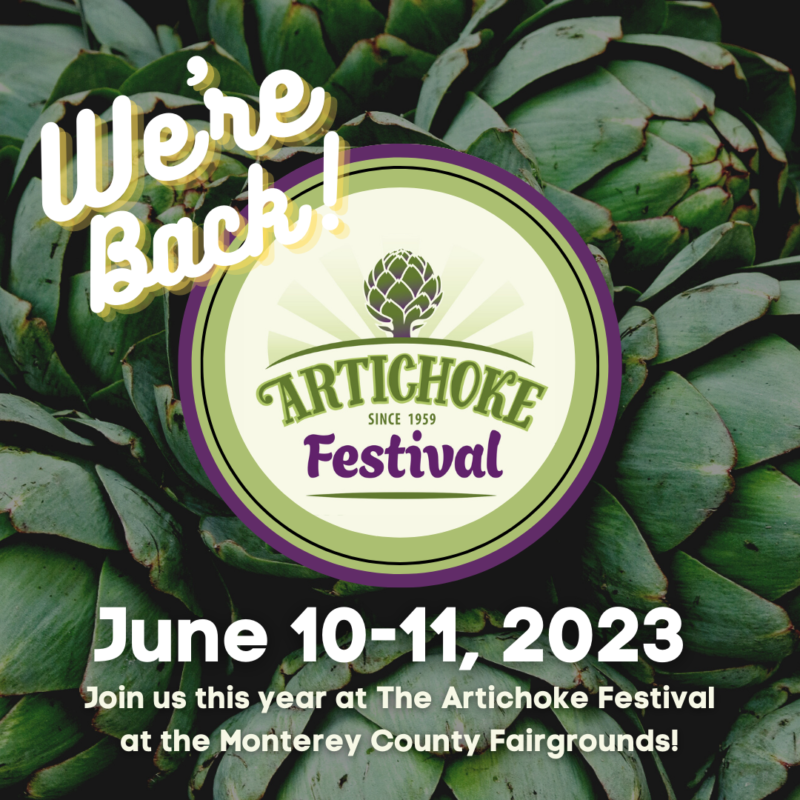 MONTEREY, Calif., (Jan. 25, 2023) — The Artichoke Festival has set the dates for the 2023 festival, Saturday and Sunday, June 10-11, and is now seeking sponsorships for the popular two-day event, including nine different levels of support, from $500 to $25,000, the highest level, which has already sold out.
The 63rd annual festival will be held at the historic Monterey County Fair and Event Center at 2004 Fairground Road, in Monterey, with the theme "Thistle be Fun: Artichoke Festival 2023." The goal is to raise $100,000 at this year's event.
Sponsorships allow businesses to promote their business to a local and regional audience, enjoy the benefits of getting their brand in front of returning fans, new attendees, and a community especially attuned to a generous and giving corporate culture, and support a longstanding non-profit organization that has been devoted to the youth of our community for more than 60 years.
A sponsorship will provide all of this, and much more. The annual festival brings the people of the community together with a very unique celebration around a very iconic vegetable. With a focus that has evolved around helping the youth of Monterey County, the festival has at its core an eye on the future.
The $25,000 is the Presenting Sponsor, the festival's top-level corporate partner, which has naming rights to an individual event as well as a number of other benefits.
Benefits for sponsorship package at the next level, $20,000, include:
Name in all program & advertising
LED stage display
On-site banner display
E-newsletter
Social media presence
Website presence
Thank you messaging
Festival entry passes
Festival parking passes
Tasting room passes
VIP vouchers for food & drinks
October haunted house passes
Golf tournament paid foursomes
Each level has varying benefits, depending on the sponsorship. New items added this year, depending on level of sponsorship, include LED Stage Display, VIP vouchers and tickets to the festival's other events such as the haunted house and golf tournament.
Thanks to sponsors and community support, last year's event was a success no matter how you measure it — the festival was able to give back over $28,000 in cash donations to 16 of its nonprofit associates and partners. But the need for sponsorship support continues to be as important to the festival as ever. The Artichoke Festival can provide sponsors with the opportunity to bridge their own corporate-giving goals with the festival's.
Celebrate the future with the Artichoke Festival
Contact the organization to maximize sponsorship opportunities with this exciting event in 2023.
Kathryn Parish can talk about a customized package that fits any corporate-giving strategies. Call her direct, toll-free at 1-888-808-7707, ext. 1. Or sign up today at https://artichokefestival.org/sponsors/.
The festival showcases the full range of tastes that the Monterey County farming community has to offer: artichoke cooking demonstrations by local celebrity chefs; a bountiful farmer's market with freshly harvested produce from Monterey County and beyond; an artichoke agricultural education exhibit; live stage entertainment; family-friendly fun activities; wine tasting; and artichokes prepared in a variety of delicious ways, including the fan-favorite fried baby artichokes, plus artichokes steamed, grilled, fried and served in various forms, such as in burritos, sausage, soup, tacos, nachos, garlic fries, pasta and even ice cream.
Again this year, festival-goers will enjoy artichoke field tours, artichoke eating and harvest contests, arts and crafts vendors, a family fun run, and the ever-popular wine tasting event, featuring the wines of small production, boutique wineries from around California. New this year is a comedy night on Saturday, a wine pavilion and more. And for the Chef Demos, Chef Brandon Miller of Mobile Paella Party fame, will kick each day off each day of the festival with a 12:30 p.m. cooking demo on both Saturday and Sunday.
For more information on this year's festival, visit www.artichokefestival.org.
About the Artichoke Festival
California's artichoke history began in 1922 when the first artichoke shoots were planted in Castroville. Today, more than nine decades later, nearly 100 percent of America's fresh artichoke supply is grown in California and nearly two-thirds is grown in the small town of Castroville.
The first Artichoke Festival was held in 1959 under the sponsorship of the Marinovich Marching Units, with the assistance of the Castroville Rod and Gun Club. In 1961 it was a joint venture of the Marinovich Marching Units and the Castroville Chamber of Commerce to produce a larger festival, and Sally DeSante was chosen as the first Artichoke Queen. 1963 began with the Festival's sole sponsorship by the Castroville Chamber of Commerce under the direction of the Artichoke Festival Board with Bill Price, one of the originators of the festival idea.
The Artichoke Festival is produced by a 501(c)(3) nonprofit organization whose hearts and minds are focused on enriching the lives of the next generation, continuing a legacy to build a future in which our area's youth will have the skills and knowledge they'll need to grow and flourish as community-minded leaders.