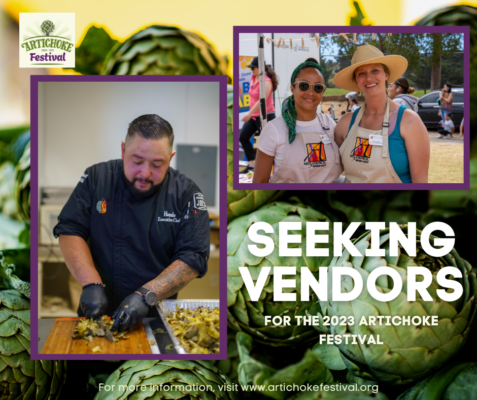 MONTEREY, Calif., (Feb. 8, 2023) — The 2023 Artichoke Festival, the 63rd annual edition of the event, is seeking vendors for the June 10-11 event in Monterey. Registration is now open for all artists, crafters, non-profit organizations, and commercial and food vendors.
Application deadline is April 28, 2023.
The festival accepts applications from four major types of vendors: Arts & Crafts, Commercial, Nonprofit, and Food Vendors. Unsure of what type of vendor you are? Vendor types, fees and forms to apply are available at Vendor Info by clicking on the tab that applies to your category of vendor. Or send an email to: artscrafts.artifest@gmail.com.
The Artichoke Festival also welcomes arts organizations, nonprofits, and neighborhood groups to participate. Artisans, crafters, and nonprofits receive discounts off the commercial vendor rates.
All final details regarding day-of information and booth assignments will be provided at set-up. Questions can be emailed to artscrafts.artifest@gmail.com, or foodvendorartifest@gmail.com or call toll free (888) 808-7707 (ext. 2 for Food Vendors, or ext. 3 for Arts & Crafts/Commercial Vendors).
The Artichoke Festival is a unique, two-day outdoor event—celebrating all things artichoke! Past attendance levels have surpassed 8,000 visitors at the Artichoke Festival, enjoying fun for the whole family. The Festival features artichoke cooking demos by local chefs, artichoke ag-education activities, a fabulous farmer's market where artichokes are the hero, artichoke-inspired delicious food, activities for kids, great musical entertainment and more. Proceeds from the Festival are used to support Castroville's neighboring community organizations and activities. All donation recipients must be a 501(c)(3) non-profit organization.
For more information on this year's festival, visit www.artichokefestival.org.
About the Artichoke Festival
California's artichoke history began in 1922 when the first artichoke shoots were planted in Castroville. Today, more than nine decades later, nearly 100 percent of America's fresh artichoke supply is grown in California and nearly two-thirds is grown in the small town of Castroville.
The first Artichoke Festival was held in 1959 under the sponsorship of the Marinovich Marching Units, with the assistance of the Castroville Rod and Gun Club. In 1961 it was a joint venture of the Marinovich Marching Units and the Castroville Chamber of Commerce to produce a larger festival, and Sally DeSante was chosen as the first Artichoke Queen. 1963 began with the Festival's sole sponsorship by the Castroville Chamber of Commerce under the direction of the Artichoke Festival Board with Bill Price, one of the originators of the festival idea.
The Artichoke Festival is produced by a 501(c)(3) nonprofit organization whose hearts and minds are focused on enriching the lives of the next generation, continuing a legacy to build a future in which our area's youth will have the skills and knowledge they'll need to grow and flourish as community-minded leaders.