You're Invited to Run for Fun and Veggies at the 2022
ARTICHOKE FESTIVAL FAMILY FUN RUN
The Artichoke Festival Fun Run is back, with more fun and a move to the Fairgrounds!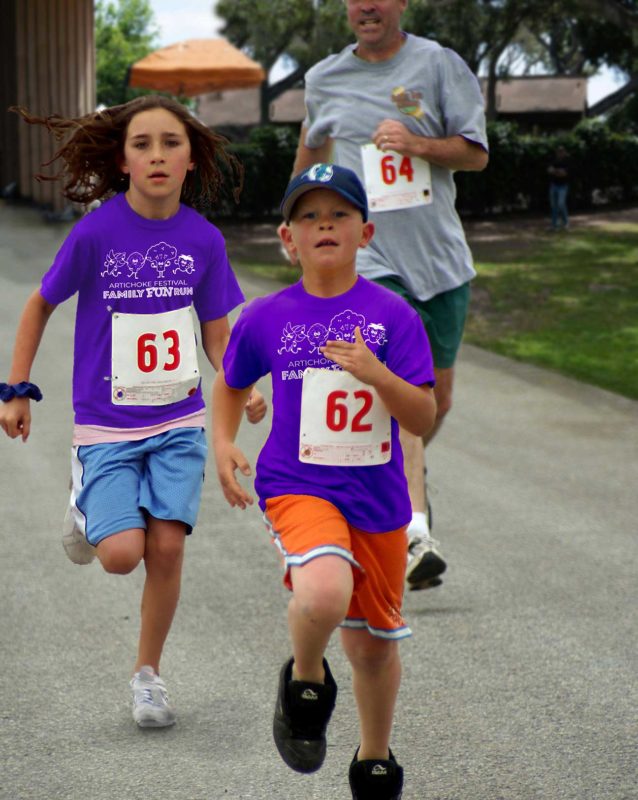 Runners of all ages are invited to join us for fun and goodies the morning before the last day of theArtichoke Festival, Sunday June 12, 2022 at theMonterey County Fairgrounds! Celebrate MontereyCounty's bounty of fresh produce and fresh air with healthy exercise and super fun activities appropriate for all ages—like obstacles, mazes, and BUBBLES! Plus, favorite children's book characters will be on hand for photo ops and air hugs. Meet Pete the Cat, CuriousGeorge, and a surprise veggie or two.
And don't forget to come dressed as your favorite vegetable to win the "Best Veggie Costume Award!"
ARTICHOKE FESTIVAL FAMILY FUN RUN – RACE DETAILS
New participant registration begins at 7:00 am.
Preregistration check-ins at 7:30 am.
All races start at 8:00 am.
FEE INCLUDES: One (1) free entry ticket to the 62 nd Annual Artichoke Festival, one (1) free T-shirt, a run medal, snacks, water, and other fun giveaways. (T-shirts guaranteed to participants registered on or before May 15, 2022. After May 15, shirts are given out while supplies last, with no guarantee of availability or preferred size.)
COURSE: Course closes at 10:00 AM. Fun Run starts and ends at Gate 6, at the Monterey County Fair & Event Center, 2004 Fairground Rd, Monterey CA 93940. Course runs mostly on combined hard pavement and some grass.
You'll get to run through some fun way-stations like an inflatable obstacle course, bubbles, and much more. Race will take place rain or shine. This is a Fun Run, the course will not be timed.
AWARDS:
Adults and children 4-120 years: Receive a run medal.
Come dressed as your favorite vegetable for a chance to win Best Veggie Costume.
The race will take place rain or shine.
PARKING:
Limited parking will be available in on Fairground Rd, in front the Monterey County Fair & Event Center. If you're planning to attend the Festival, the fee-per-vehicle parking lots north and south of the fairgrounds off Garden and Airport Roads will be open for parking. Gate 8 parking is General Parking at $15 per vehicle. The arena at Gate 6, and golf course lot on Garden Rd, is Premium Parking at $20 per vehicle. We highly encourage our run participants to GO GREEN and carpool!
WHAT TO WEAR:
Participants are encouraged to come dressed as your favorite vegetable! Otherwise, wear comfortable clothing and good running/athletic shoes. You will receive a free ticket to the Artichoke Festival, (10:00am – 5:00pm), so you may be on your feet for lots more fun and activities after the Fun Run!
WHAT TO BRING:
Fellow runners to cheer you on! Sun block, sun glasses, a windbreaker in case the weather changes, and a towel to wipe off any sweat, water, or BUBBLES. Please leave your pets at home, animals are not allowed on Fairgrounds property.
BE PREPARED:
Eat something at least an hour prior to the start of the race.
About the Artichoke Festival
The festival organizers' passion to give back is reflected in this year's festival theme: "The Heart of the Harvest." The hearts and minds of the organization are set on enriching the lives of local youth — by supporting the programs that serve them, helping to build a future in which they'll have the skills and knowledge they'll need to grow and flourish as community-minded leaders.
Thanks to sponsors and community support, last year's event was a success and organizers were able to give back more than $45,000 in cash donations to nonprofit associates and partners.
The festival will showcase the full range of tastes that the Monterey County farming community has to offer: artichoke cooking demonstrations by local celebrity chefs; a bountiful farmer's market with freshly harvested produce from Monterey County and beyond; an artichoke agricultural education exhibit; live stage entertainment; family-friendly fun activities; and artichokes prepared in a variety of delicious ways, including the fan-favorite fried baby artichokes, plus artichokes steamed, grilled, and in unique forms such as soup, burritos,
sausage, cupcakes and even ice cream. Again this year, festival-goers will enjoy artichoke eating and harvest contests, arts and crafts vendors, the family fun run, and the ever-popular wine tasting event, featuring the wines of small-production, boutique wineries from around California.
For more information on this year's festival, visit www.artichokefestival.org.