THANK YOU FOR A GREAT FESTIVAL!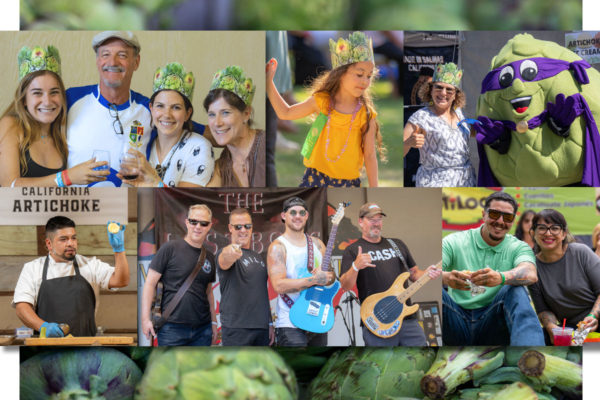 To the many fans who came out to enjoy the artichokes and brave the warm weekend weather in Monterey, the Artichoke Festival owes a great debt of gratitude. We hope you had as much fun as we did!
We also wish to acknowledge the many sponsors and donors who came forward again this year and made it possible for our organization to produce a rewarding and super-fun event! From brand new sponsors joining us for the first time, to long-time sponsors and donors who've been with us for many years, we are deeply grateful for your generosity and support. We "heart" you all!
American AgCredit
Amerigas
Arts Council for Monterey County
Boutonnet Farms
California Artichoke Advisory Board
California Artichoke Advisory Board
Cardinale Moving & Storage
Castroville Chiropractic Clinic
Castroville Plumbing & Heating
Chidlaw Marketing
Coastal Tractor
Commercial Truck Co.
Compass Church Youth Ministry
Cursillo in Christianity
Custom Produce Sales
Dole Fresh Vegetables, Inc.
Embassy Suites Monterey Bay
Federacion San Pablo de Colores
Gold Star Motors
Golden State Elite Cheer and Dance
Hilton Garden Inn Monterey
Hope, Horses and Kids
Hyatt Regency Monterey Hotel and Spa
Kaiser Permanente
Kleen Globe, Inc.
KMBY/KDJJ Radio/TV Monterey/Fresno
Marina Lions Club
Mechanics Bank
Mike's Signs
Monterey County Free Libraries
Monterey High School AMP Academy
Neponset Ag
North Monterey County High School Cheer
North Monterey County High School Student Government
North Monterey County High School Wrestling Team
North Monterey County Middle School Library
Nutrien Ag Solutions
Organic Roots Olive Oil
Partnership for Children
Premium Packing, Inc.
Rotary Club of North Monterey County
Rotary Club of North Monterey County
Salinas Valley Food and Wine
Salinas Valley Memorial Healthcare Service League
Santa Lucia Rotary Salinas
Sturdy Oil
Taylor Farms
The Brady Companies
The Buzz PR LLC
Valley Heritage Quilt Guild
About Castroville Artichoke Festival, Inc.
The Artichoke Festival is produced by Castroville Artichoke Festival, Inc. (CAFI), a registered 501(c)(3) non-profit organization dedicated to the next generation in our community. CAFI has distributed more than $250,000 to the community in the past decade through its annual, family-friendly celebration of the iconic artichoke. The local non-profit groups who work with us provide the Festival with a tremendous number of volunteer hours every year—we could not produce this event without them. But non-profits participating in the festival have benefitted from more than just funding—our event provides these organizations with much needed exposure to a wider audience than they might normally reach, as well as opportunities for individuals, young and old alike, to benefit from the enriching experiences that volunteering can bring them. The Artichoke Festival links and educates local residents, businesses, non-profits, school groups, and other local institutions in a way that engages everyone in a wonderfully collaborative celebration of our community's unique history and future successes.
Learn more about our mission and giving history on our About page.