Artichokes are delicious.
If you've never eaten one, the Artichoke Food and Wine Festival is the place to try them. Stop by the Chef Demo area and see how our creative chefs use artichokes in a broad spectrum of mouthwatering dishes.
A little backstory. Artichokes have been cultivated as a food source as early as the fifth century. Most culinary historians believe artichokes originated in the Mediterranean area of the world, most likely first harvested in Italy. Artichokes came to California's Central Coast with Italian farmers who settled in this area and planted them as a reminder of home.
The health benefits of artichokes are many. Artichokes are a low calorie, low sodium, fat free and no cholesterol food. Artichokes are a good source of vitamin C, folate, magnesium and potassium. Just about any way you cook an artichoke — either as a stand alone or as an ingredient in a dish — they are good for you!
Here's a recipe that makes them the star of a quiche.
Artichoke Quiche
3 medium California artichoke hearts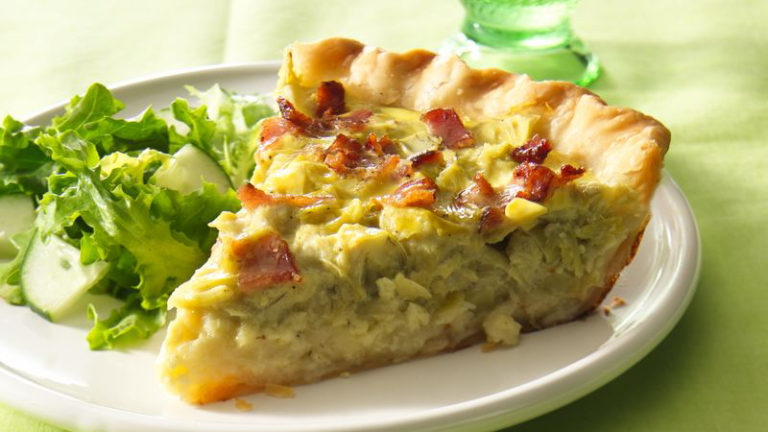 2 Tablespoons butter
1 medium onion, chopped
1 clove garlic, minced
1/2 cup sour cream
4 eggs
1/2 cup whipping cream
2 cups shredded Swiss cheese
2 Tablespoons chopped parsley
1 teaspoon salt
1/2 teaspoon pepper
1/4 cup chopped ham (optional)
1 unbaked 9- inch pie shell
Prepare the artichokes by removing all of the outer leaves until the pale green central core is reached. Cut off the stem and one-half inch above the base of the leaves and discard. Trim the outer dark green layer from the artichoke bottom. Remove fuzzy center and discard. What's left is the heart; cut into wedges.
Melt the butter and sauté artichoke wedges, onion and garlic until tender. Combine sour cream, eggs and whipping cream; mix until well blended. Add shredded Swiss cheese, parsley, salt and pepper. Add ham if desired. Mix thoroughly and pour into pie shell. Bake in preheated 4250 degree F oven for 15 minutes. Reduce temperature to 3500 degrees F and cook for about 25 minutes or until set. Cool before serving.
Makes 8 servings.
Make sure you visit our website and save on ticket packages. &We will see you at the 58th Annual Castroville Artichoke Food and Wine Festival, at the Monterey County Fairgrounds.