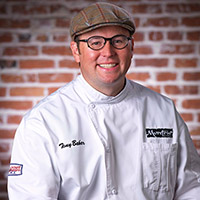 Chef Tony Baker –
We have been fortunate to have Tony Baker share his talent at the Artichoke Festival for years! Known by many as the "Artichoke Chef", Tony is dedicated to sourcing local, seasonal ingredients from the area's farmers, ranchers and fisherman. As Executive Chef of Montrio Bistro in Monterey, his commitment to cooking with sustainable ingredients keeps the menu
fresh and innovative.
Tony's stature as a culinary professional is well recognized within our local community and around the globe. This year, he was invited to participate in Obsession 2017 (http://www.northcote.com), a premier gastronomic event that takes place at Northcote, a small, luxury hotel in England with a Michelin star restaurant. This event brought together chefs from around the world for seventeen nights of incredible cuisine. Tony, of course, included artichokes on the menu. Please make sure that you are in the audience to experience the pairing of great food and good fun when Tony again celebrates the versatile artichoke. And as the founder of Baker's Bacon, we think that he might even pair a little dry, cured pork as a savory ingredient to his sure to be delicious artichoke creations!
Don't miss Tony's "show" at this year's Artichoke Food & Wine Festival. Get your tickets now!